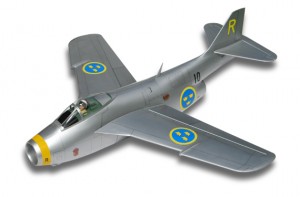 Skala: 1:15
Spännvidd: 734 mm
Vikt: 500 gr
Motor: Mini AC 1215/12 & Alfa MkII Ducted Fan
Batteri: 3 S1300 mAh LiPo
R/C: 3 funktioner 
Byggsatsen är tillfälligt slut men ritningen finns att beställa.
Ritningen kostar 350:- inkl frakt. 
The follow up to the successful line of kits from MJD Models is the interesting and superb handling electric ducted fan model of the famous "Flygande Tunnan" (Flying Barrel). A scale model with amazing performance that handles like a trainer!
The Saab J29 has jet like performance and is easily hand thrown without catapult! The model is designed for the Carbon fibre Ducted fan unit – Alfa Mk II that is included in the kit. Recommended motor is the brushless Mini AC 1215/12.
The kit is designed using CAD-technology and most parts are CNC-milled for a perfect fit. It is a traditional design using balsa and plywood which makes it both easy to build and easy to repair if an accident should occur.
This model is recommended to the average builder/pilot with experience from a couple of models before. The J 29 has a scale contour and can be built to a very accurate model of the full size.
Saab J29 "Flygande Tunnan" was the first Swedish "real" jetfighter after the J21R. The prototype first flew in 1948 and was one of the first aircrafts with a swept wing. 661 aircrafts was built and it was used in the Swedish Air Force between 1952 – 1967. During the 1960 – 1963 it was used in UN-service in Congo. The J29 was contemporary with the F86 Sabre and the Mig 15.
Today some J29's is preserved at various museums. "Gul Rudolf" is kept airworthy and is flying displays during the summer season in Sweden.